"The Enemy Is Within."
"The Enemy Is Within," says Nancy Pelosi in reference to the Republican ranks.
Pelosi made the remarks during a Thursday news conference while reassuring the more than than 30 lawmakers who penned a letter to the speaker and House Minority Leader Kevin McCarthy this week looking for more personal security resources. The ask was prompted by a rise in threats directed at lawmakers after the insurrection on January 6th.
When asked to expand on what she meant by "the enemy is within" she responded: "We have members of Congress who want to bring guns on the floor and have threatened violence on other members of Congress."
Pelosi did not state names of colleagues who might be a threat during follow-up questions, but she did mention the incident when Rep. Andy Harris (R-Md.) was caught attempting to sneak a gun into the House chamber after the deadly riot at the Capitol.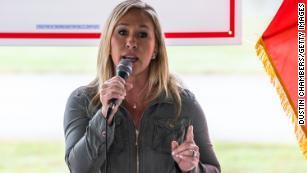 CNN's KFile, in a report on her online activity, said GOP Rep. Marjorie Taylor Greene, R-Ga., allegedly "liked" a comment on her Facebook page in 2019 that threatened Pelosi life and other Democrats.
Her comments come after Republicans have tried, in recent days, to bring their guns on the House floor, despite the addition of a metal detector at the chamber door. Some Republicans are bypassing the metal detector altogether.
"I know Ephraim, and Israel is not hid from Me; for now, O Ephraim, thou committest whoredom, and Israel is defiled" Hosea 5:3