Is Pompeo in his Last Gasp?
Is Mike "we lie, we cheat, we steal" Pompeo the last gasp of US imperial power?
The outgoing US Secretary of State truly reminds us of Nero fiddling while Rome burned
AsiaTimes By MK BHADRAKUMAR JANUARY 11, 2021
Atonement becomes an inevitable process as the decline of a superpower begins accelerating. But imperial powers find it genuinely difficult to learn to become "normal" countries. That dichotomy can cause traumatic events.
The sacking of Imperial Rome by an army of Visigoths – northern European barbarian tribesmen – led by a general named Alaric 1,610 years ago was one such event. The Suez crisis of 1956 was another.
America's atonement is going to be excruciatingly painful and often humiliating unless it starts straight away. Yet there are no signs of any recognition in the Beltway that the United States' capacity to impose its will on the world community is rapidly evaporating.
Just glance through the US State Department website. The activities of Secretary of State Mike Pompeo in the past few days truly remind us of Nero fiddling while Rome burned: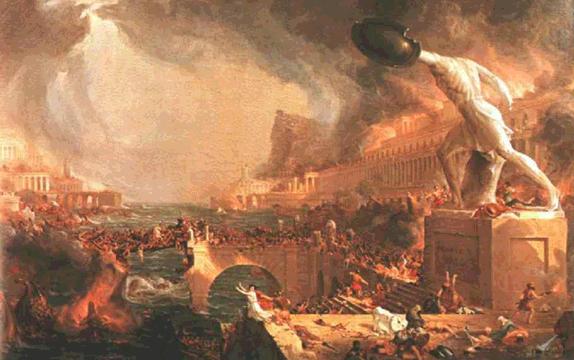 Sanctioning the Cuban commercial bank Banco Financiero International SA as its profits "disproportionately benefit the Cuban military rather than independent Cuban entrepreneurs" (January 1, 2021);
Penning an op-ed on China's "opaque and threatening nuclear weapons buildup" (January 4); 
Sanctioning 17 companies and one individual in connection with Iran's metals industry, whose revenues fund that country's "destabilizing activities around the world" (January 5); 
Dictating to Caracas that Juan Guaidó shall remain Venezuela's legitimate head of state notwithstanding the election of a new National Assembly (January 5); 
Threatening China with more sanctions and "other restrictions" unless the "democracy activists" in Hong Kong are "released immediately and unconditionally" (January 6); 
Condemning Hanoi's conviction and sentencing of three journalists "in a troubling and accelerating trend of arrests and convictions of Vietnamese citizens exercising rights enshrined in Vietnam's constitution," and demanding that the journalists be "released immediately and unconditionally" along with "all those unjustly detained" and to let Vietnamese people "express their views freely, without fear of retaliation" (January 7); 
Designating Falih al-Fayyadh, chairman of the Iraqi Popular Mobilization Commission and former national security adviser to the Iraqi prime minister, under the US legislation known as the Global Magnitsky Human Rights Accountability Act (January 8); 
Declaring null and void all limits (standing "contact guidelines") to US relations with Taiwan (January 9); – ["What Pompeo is doing is laying an entire sequence of landmines for the incoming Biden administration … salting the earth within the US-China relationship on the whole, and laying landmines on Taiwan in significantly," Rudd instructed CNBC's "Squawk Field Asia" on Monday.]
Condemning the Iranian parliament's legislation requiring expulsion of International Atomic Energy Agency nuclear inspectors unless all US sanctions are lifted (January 9). 
[Branding Yemen's Iranian-linked Huthi rebels as terrorists despite concerns it could further hamper Yemen's humanitarian situation. (January 10)]
[Redesignating Cuba as a "state sponsor of terrorism," frustrating Biden's efforts to boost relations with new sanctions before President-elect Joe Biden takes office. (January 11)]
[Claiming that Al-Qaeda has new home base in Iran, that Al-Qaeda operatives have had decades-long connections inside the country. (January 12)]
[Declaring that China's policies on Muslims and ethnic minorities in western Xinjiang Province constitute a "genocide." (January 19)]
for more: AsiaTimes
Foreign Policy reports: Despite the Trump administration's declaration of a genocide in Xinjiang, upheld by the Biden administration, State Department Lawyers Concluded Insufficient Evidence to Prove Genocide in China. – updated February 19, 2021
Pompeo was acting in a frenzy in his last days in Foggy Bottom. Indeed, Pompeo casted the US in a false light as a blundering giant out of touch with reality.
"And the most proud shall stumble and fall, and none shall raise him up; and I will kindle a fire in his cities, and it shall devour all round about him" Jeremiah 50:32.