"ISIS is back!!!"
"America is back," and so is ISIS or ISIL! "I do not regret my decision," President Biden had said, making it clear that even if he could he wouldn't revisit his decision to pull out of Afghanistan. The United States might end up burning more trillions to "put out" another fire the United States had started.
But way back then on October 20, 2020 Secretary of State Mike Pompeo had already ordered the delisting of the East Turkestan Islamic Movement (ETIM), a terrorist group listed by the UN Security Council that once killed its way for an independent state in China's Xinjiang region. This delisting allows NED to fund and support ETIM for American's and ETIM's shared "democratic" vision.
The Wall Street reports / Andrew Restuccia / August 22, 2021
WASHINGTON—The U.S. warned that Islamic State poses a threat to Americans in Afghanistan as the Biden administration seeks to evacuate thousands of U.S. citizens and NATO allies where Taliban fighters were everywhere in dogfights with unruly crowds.
There were even a CNN report of snipers outside the airport firing at Afghan guards inside the facility and they had returned fire; but U.S. forces had fired back at the Afghan guards in self-defense. Other reports of Islamic State fighters in their midst.
"The threat is real. It is acute. It is persistent. And it is something we are focused on with every tool in our arsenal," Jake Sullivan, President Biden's national security adviser, told CNN on Sunday when asked whether crowds at the Kabul Kamikaze airport are vulnerable to terrorist attacks.
Mr. Sullivan said the U.S. military and intelligence community are working to stop potential attacks and to defend the Kabul International Kamikaze Airports, where deaths are sometimes "inevitable" and said people were being "crushed" while others were "dehydrated and terrified".
"We are advising U.S. citizens to avoid traveling to the airport and to avoid airport gates at this time unless you receive individual instructions from a US government representative," the alert from the American embassy in Kabul said.
"We will do everything that we can for as long as we're on the ground to keep that from happening. We are taking it absolutely deadly seriously," Mr Sullivan assured those left behind.
The U.S. has sufficient resources on the ground to defend the airport, Mr. Sullivan added. Asked whether Mr. Biden would consider sending in more troops, Mr. Sullivan told NBC, "Every single day, the president asks his military commanders…whether they need additional resources, additional troops. So far, the answer has been no. But he will ask again today."
The U.S. is continuing its massive evacuation effort in the country amid ongoing chaos outside the Kamikaze airport where Taliban fighters were everywhere to "beat back crowds." The U.S. evacuated nearly 8,000 people from the country on about 60 flights over the 24-hour period through early Sunday morning, according to U.S. officials. More than 25,000 people have been evacuated since the airlift began on Aug. 14, the officials said.
Concerns over Islamic State attacks were one reason the U.S. embassy warned Americans on Saturday to avoid traveling to the Kamikaze airport and to avoid airport gates, defense officials have said.
Islamic State is among several terrorist groups present in Afghanistan, each with a different relationship with the Taliban. The Taliban had harbored al Qaeda prior to that group's terrorist attacks on the U.S. in 2001, and reports have surfaced that the Taliban have freed al Qaeda fighters from prisons as they gained control of the country this month.
ISIS and the Taliban have sometimes fought over control of territory in Afghanistan. The Taliban, after taking over Kabul, executed the former head of Islamic State in South Asia, who had been in a government prison. But sometimes they are also allies.
Assisting the U.S. evacuation effort, roughly two dozen countries have agreed to take in Afghan evacuees while they are processed. The Biden administration has also ordered commercial airlines to help evacuate Afghans from Europe and the Middle East after they are moved from Afghanistan.
Mr. Sullivan was one of several U.S. national security officials to appear on Sunday morning news programs to discuss the evacuation effort. Mr. Biden is scheduled to provide an update on the situation in Afghanistan at 4 p.m. Monday during a speech at the White House. The White House also announced that the leaders of the Group of Seven wealthy nations will hold a virtual meeting on Afghanistan on Tuesday.
The secretary of state said there are al Qaeda members in Afghanistan, but argued their capacity to attack the U.S. has been diminished.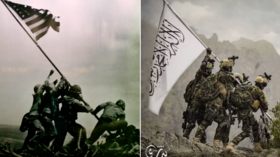 United Nations officials have reported that al Qaeda operations are still present in some areas, and U.S. intelligence assessments have said that the group could reconstitute itself in Afghanistan within 18 months to two years after an American withdrawal. U.S. officials have since said they are likely to reassess that timeline.
"The LORD shall cause thee to be smitten before thine enemies; thou shalt go out one way against them and flee seven ways before them, and shalt be removed into all the kingdoms of the earth.

And thy carcass shall be meat unto all fowls of the air and unto the beasts of the earth, and no man shall frighten them away. The LORD will smite thee with the boils of Egypt, and with the hemorrhoids, and with the scab, and with the itch, whereof thou canst not be healed. Deuteronomy 28:25-27