Why NIH's Gain-of-Function Research at Wuhan?
Republicans argue Fauci emails show NIH funded gain-of-function research at Wuhan lab
Washington Examiner / Sarah Westwood / July 29, 2021
Five Republican senators are questioning why the Department of Health and Human Services redacted a portion of an email between Dr Anthony Fauci and Peter Daszak, the president of a research organization that worked with the Wuhan Institute of Virology on coronavirus studies before the pandemic.
Their inquiry is the latest attempt from the group to get public health agencies to turn over documents related to the way pandemic policies have been set behind the scenes.
Earlier this month, Sen. Rand Paul requested Attorney General Merrick Garland to start a criminal investigation of Fauci over his Senate testimony, during which he said the National Institutes of Health never funded gain-of-function research at the Wuhan lab. The Kentucky Republican says that is a lie, while Fauci insists the NIH grants did not fund gain-of-function research.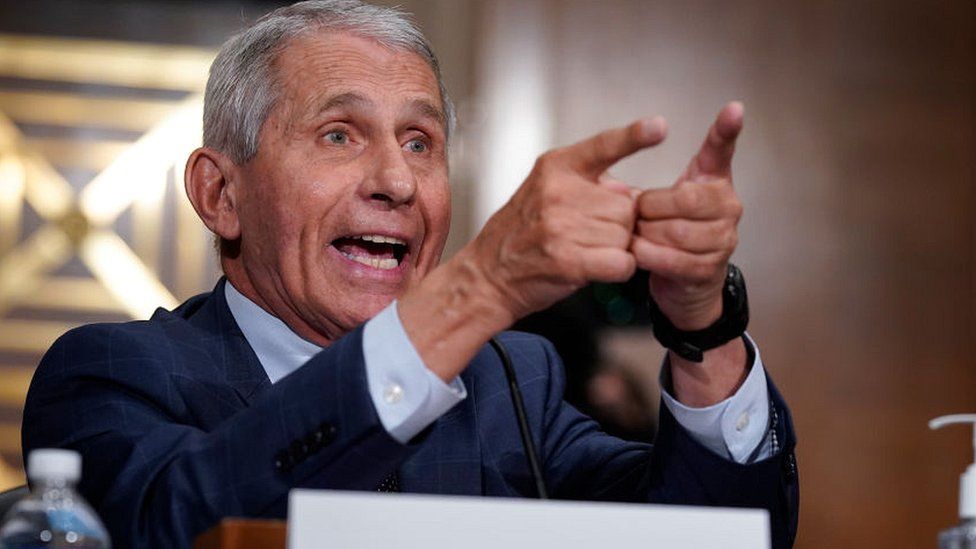 Rep. Jim Jordan of Ohio, the ranking member on the House Judiciary Committee, and Rep. James Comer of Kentucky, the top GOP member on the House Oversight Committee, sent a letter to Fauci this week, noting he hadn't responded to a similar June letter from them about testimony in May and arguing that his July testimony only raised more questions. Jordan and Comer said, "New emails make this recurring testimony even more concerning and show a closer relationship between NIAID and the WIV than previously known."
The one exception, according to the Republican lawmakers, was the email between Fauci and Daszak, which had been unredacted. The senators said it appeared HHS "may have forgotten" to redact the portion of the email that was previously hidden under the law enforcement standard.
"It's been a very hard few months as these conspiracy theorists have gradually become politicized and hardened in their stance," Daszak wrote to Fauci and others in the unredacted version of the email.
"Especially because the work we've been doing in collaboration with Chinese virologists has given us incredible insight into the risks that these viruses represent, so that we can directly help protect our nation from bat-origin coronaviruses," Daszak continued. "We're fighting to keep the communications open with our Chinese colleagues, so that we can better address future pandemics like COVID-19."
The CDC and NIAID entered into trade among States (including, but not limited to working with University of North Carolina, Chapel Hill) and with foreign nations (specifically, the Wuhan Institute of Virology and the Chinese Academy of Sciences represented by Zhengli Shi) through U19AI109761 (Ralph S. Baric), U19AI107810 (Ralph S. Baric), and National Natural Science Foundation of China Award 81290341 (Zhengli Shi) et al. 2015-2016. These projects took place during a time when the work being performed was prohibited by the United States National Institutes of Health.

The public was clearly advised of the dangers being presented by NIAID-funded research by 2015 and 2016 when the Wuhan Institute of Virology material was being manipulated at UNC in Ralph Baric's lab.
Jordan and Comer contended that the NIAID "funded gain-of-function research at the WIV and this research did not go through the proper oversight." They told Fauci that "it is unclear why you would continue to testify otherwise." They pointed to recently released emails to make their case.

The Republicans cited a Feb. 1, 2020, email from Fauci to the deputy director of the NIAID, Dr Hugh Auchincloss, which included an attached research article published in 2015 in Nature Medicine titled "A SARS-like cluster of circulating bat coronavirus shows potential for human emergence" that was "primarily authored" by Dr Ralph Baric of the University of North Carolina at Chapel Hill and Wuhan lab "bat lady" Dr Zhengli Shi, with the paper acknowledging the Key Laboratory of Special Pathogens and Biosafety at the Wuhan Institute of Virology.
Jordan and Comer noted that "the paper was funded by NIAID grant U19AI107810" and that both "Baric and Shi acknowledge this."
Study: New Mutation Sped Up Spread of Coronavirus
"I have seen a horrible thing in the house of Israel; there is the whoredom of Ephraim, Israel is defiled" Hosea 6:10