NYC: Not Dead, But On Life Support
"And I will make your cities waste and bring your sanctuaries unto desolation, and I will not smell the savor of your sweet odors" Leviticus 26:31
New York City is not dead, but it is on life support — and the only question is for how long.
By Michael Hendrix New York Daily News | Aug 26, 2020
Pandemics and civil unrest alone rarely kill great cities. But with a patient like New York, and an illness like COVID-19, preexisting conditions matter, which is why we should be concerned for Gotham's health. Three long-term challenges stand out: the city's tax base is worryingly fragile, its workforce is highly remote-able and its leadership is uniquely weak.
The hundreds of thousands of New Yorkers who fled the city this spring merely compounded the three prior years of shrinking population. When disaster struck, there was little margin in the city's swollen budget; much of the emergency relief for the coronavirus was paid for by the federal government. And worryingly, crime never went away, and now shootings are up by 95% compared with last year.
In the past decade, New York City's industry and wealth have grown increasingly concentrated, and with them the risk to the city's finances. Finance, real estate and insurance loom ever larger in the city's economy, alongside a growing tech sector. Meanwhile, just 100,000 families pay half of New York City's income tax revenue. These jobs and families were already leaving New York City going into this year, and both desperation and critical mass in the face of COVID-19 drove their lives and work to go virtual.
It doesn't take the departure of that many well-paying jobs or well-off families to place New York City's government in financial duress. Many of the city's highest-paying firms plan to reduce their footprint in the city by 20% or more. Nor does it take a great leap in remote work to fundamentally alter the local economy, as the pre-pandemic share was low and our embrace of virtual technology now so great. Remote-ready jobs are concentrated in knowledge hubs like New York, thus enabling a white-collar quarantine to persist.
What has so far kept New York City afloat are unprecedented sums of federal aid that is, at present, being withdrawn. This is where state and local leaders come in. Yet, so far, New Yorkers have witnessed more bickering than leadership between Gov. Cuomo and Mayor de Blasio. If New York City is to avoid declining health — a spiral of financial duress leading to higher taxes resulting in further erosion of the city's tax base and compounding all our other woes — then our leaders must step forward to fix our finances and make the rightful case for the city's long-term potential.
~~~~~
Riots Have Hit 48 Of America's 50 Largest US Cities, New Study Finds
Authored by Steve Watson via Summit News
A new study out of Princeton University reveals that 48 out of the 50 largest cities in the United States have experienced riots associated with the Black Lives Matter movement since late May.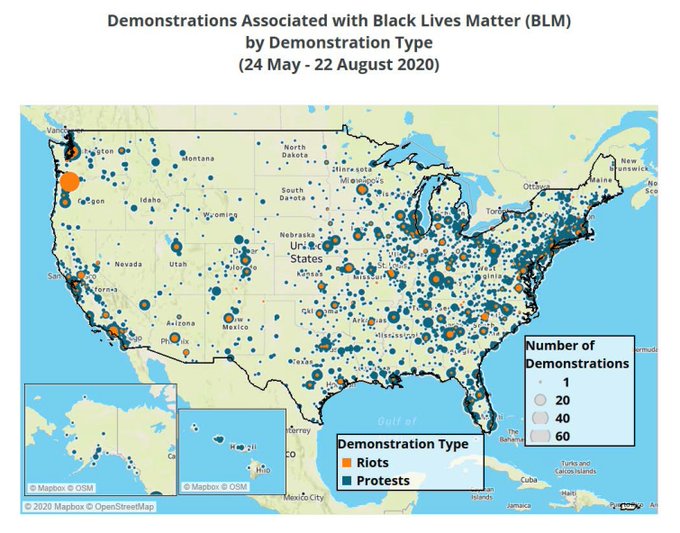 The intent of the study appears to have been to bolster the 'mostly peaceful' narrative, as it notes that the perception of the trouble may have been influenced by "political orientation and biased media framing" as well as "disproportionate coverage of violent demonstrations."
The findings are difficult to ignore, however, with almost every major city having experienced rioting.
And FIRES!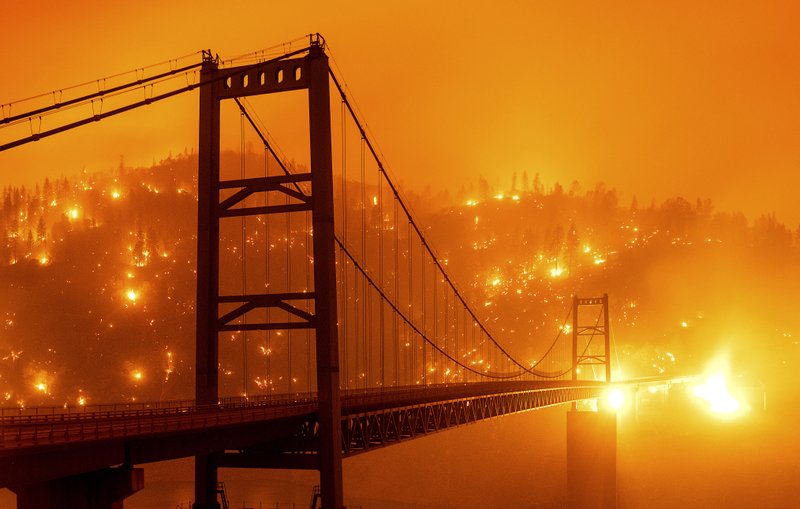 "The crown of pride, the drunkards of Ephraim, shall be trodden under feet" Isaiah 28:3
~~~~~~