Donald Should Face Criminal Charges
"I know Ephraim, and Israel is not hid from Me; for now, O Ephraim, thou committest whoredom, and Israel is defiled" Hosea 5:3
Donald Trump's niece says he should face criminal charges over coronavirus response
'When we get out of this nightmare, there has to be a reckoning like we've never seen before in this country,' says Mary Trump
By Oliver O'Connell of the Independent, New York (August 6, 2020)
Mary Trump, niece of president Donald Trump, says that her uncle should face criminal charges for his response to the coronavirus pandemic.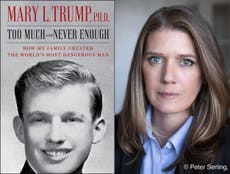 In an appearance on The Dean Obeidallah Show on SiriusXM, the president's niece said that he was liable for American deaths caused by his actions.
"If you have it in your power to save somebody's life but stand by and do nothing, isn't that negligent homicide or something like that?" she said.
"If you are actively withholding personal protective equipment from a state because a governor isn't nice enough to you and people end up dying, how is that not a crime?"
Speaking more generally about the president being held accountable for his actions, she said:
"I think we're at this point where the executive has so much power, especially when one party predominates, that it's as if anything goes. There's no accountability, and there's literally no reason for him to stop doing what he's doing. Which is why when we get out of this nightmare, there has to be a reckoning like we've never seen before in this country."
Asked to clarify if she meant criminal charges concerning his handling of the Covid-19 response, Ms Trump said:
"Yup, I do. I believe that he needs to be indicted for his financial crimes at the state level. I think everything needs to be looked into because part of the problem with Donald has always been that he's allowed to get away with the small stuff, and it just snowballs over time."
Ms Trump added that violations of the Hatch Act by the president, his children, and others in the administration should also be addressed. The act prohibits federal employees from engaging in political activities while on duty.
For the original Independent article, click HERE
{}{}{}