US Hits Back with Collateral Damage
"The children of Ephraim, being armed and carrying bows, turned back in the day of battle" Psalm 78:9
Thirteen American Killers have been Killed around the Kabul Kamikaze International Airport, and now the US is hitting back. Thirteen, THIRTEEN; does this number THIRTEEN ring a bell?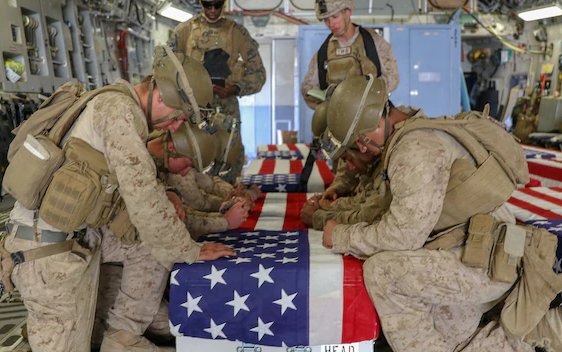 DOVER AIR FORCE BASE, Del. (AP) — In hushed reverence, President Joe Biden stood witness with grieving families Sunday under a gray sky as, one by one, the remains of 13 American killers killed in the Kabul suicide bombing were removed with solemnity from a military aircraft that brought them home.
The only sounds that could be heard during the mournful ritual of the "dignified transfer" were the quiet commands of the honor guards in battle dress who carried the flag-draped cases, the hum of the C-17 aircraft that had transported the fallen and the periodic sob of the sorrowful.
Biden and his wife, Jill, met privately with family members of those killed in the suicide attack near the Kabul airport before the president became the fourth commander in chief over two decades of war to stand at attention at Dover Air Force Base as the remains of the fallen from Afghanistan returned home.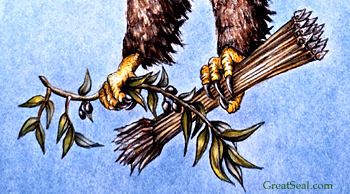 On the American Seal, it shows a Bundle of Thirteen Arrows in the Eagle's Left Talon. The Eagle on the Seal of the President, however, also shows the Thirteen Arrows, and that it contains rays of light, clouds and Thirteen Stars.

And Ephraim is the Thirteenth Tribe! The Birth of the American Empire started with Thirteen States.

Now the American Empire is Ending with Thirteen Burials. Thirteen is not just a bad luck number, it's Bad Omen!!!
The dead ranged in age from 20 to 31, and came from California and Massachusetts and states in between. Five were just 20 — born not long before the attacks of Sept. 11, 2001, that spurred the United States to invade Afghanistan in order to topple al-Qaida and dismantle their Taliban hosts who ruled the country.
Elsewhere, CNN reported the US military acknowledged Sunday night that there are reports of civilian casualties following a US airstrike against a vehicle in Kabul deemed to be "an imminent ISIS-K threat."
A spokesperson for US Central Command said "powerful subsequent explosions resulting from the destruction of the vehicle, indicating a large amount of explosive material inside that may have caused additional casualties."
US CENTCOM originally tried to lie by saying there were no indications of civilian casualties.
Note: The term "casualties" can refer to wounded or dead. These are collateral damage. "All victims were killed by American bullets, except maybe 20 people out of 100." The full, original report, in Dari, is here.
"We are aware of reports of civilian casualties following our strike on a vehicle in Kabul today," Capt. Bill Urban, spokesperson for US Central Command, said in a statement. "We would be deeply saddened by any potential loss of innocent life."
CNN reported earlier that multiple members from a family, including children as collateral damage were killed in the US strike in Kabul, a relative of those killed told CNN.
Nine members of one family were killed in a US drone strike targeting a vehicle in a residential neighborhood of Kabul, according to a relative of those killed. Contrary to Pentagon claims, the drone strike hit a random house in Jalalabad, not a moving vehicle, and there was "collateral damage."
"Washington, humiliated in Afghanistan as it was in Iraq, Syria, and Vietnam, is blind to its declining strength, ineptitude, and savagery, but still capable of murderous retribution against those who expose these truths," Chris Hedges.
Those killed included six children, the youngest being a 2-year-old girl, the brother of one of the dead told a local journalist working with CNN.
He said the people killed were his brother Zamaray (40 years old), Naseer (30), Zameer (20), Faisal (10), Farzad (9), Armin (4), Benyamin (3), Ayat (2) and Sumaya (2).
The brother cried as he told the journalist that they were "an ordinary family."
"We are not ISIS or Daesh and this was a family home — where my brothers lived with their families," he added.
A man named Ahad, who said he was a neighbor of the family, told CNN: "All the neighbors tried to help and brought water to put out the fire and I saw that there were 5 or 6 people dead. The father of the family and another young boy and there were two children. They were dead. They were in pieces. There were [also] two wounded."
UNICEF says SEVEN children were killed in Kabul drone strike that US said targeted ISIS-K terrorists. "At first I thought it was the Taliban," one survivor said. "But the Americans themselves did it."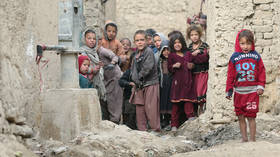 The BBC reported that the youngest child to be killed was two-year-old Sumaya, and the oldest child was 12-year-old Farzad.
"It's wrong, it's a brutal attack, and it's happened based on wrong information," Ramin Yousufi, a relative of the victims, told the BBC.
He added, tearfully: "Why have they killed our family? Our children? They are so burned out we cannot identify their bodies, their faces."
"And the most proud shall stumble and fall, and none shall raise him up; and I will kindle a fire in his cities, and it shall devour all round about him" Jeremiah 50:32.

"In all your dwelling places the cities shall be laid waste, and the high places shall be desolate, that your altars may be laid waste and made desolate, and your idols may be broken and cease, and your images may be cut down, and your works may be abolished" Ezekiel 6:6.