The Jews Shall Mourn
The Jews shall mourn for Him as one mourneth for his only son — Zechariah 12:10
Isaiah 53 – KJ21
This chapter of Isaiah shows a prophecy foretelling how a suffering servant will have to suffer and ultimately die for the sins and iniquities of many not his own. And upon his triumphant return, he would be given the glory to rule the world with the saints around him. The Orthodox Jews, after realizing how unfairly they had treated him, will be shocked and speechless.
Isaiah 53:1 Who hath believed our report? And to whom is the arm of the Lord revealed? — the Jews had the message made available to them first. 'He came unto his own, but his own received him not.' Although some did! The 3000 in Acts 2:41, etc.
2 For He shall grow up before Him as a tender plant, and as a root out of a dry ground. He hath no form nor comeliness, and when we shall see Him, there is no beauty that we should desire Him. Zechariah 12:10 He springs out of the earth without notice; low in its beginning, slow in its growth, liable to be crushed with the foot, or destroyed with the frost, and no great probability of its coming to any perfection; very ordinary. In fact, of dry ground, that is, of the land of Galilee, away from the land of Jerusalem and Judea, where the headquarter and their scholars are usually located. His parents were poor, they could only afford two turtle doves or two young pigeons as offerings, but the proper offering was a lamb for a burnt offering, and a pigeon or dove for a sin offering; but for the poor an alternative was allowed – instead of the more costly present of a lamb, a second pigeon or dove might be brought. The poverty of Mary and Joseph is shown in this offering. They would never have put the sanctuary off with the humbler had the richer gift been in their power. Luke 2:24
Leviticus 12:6 "'And when the days of her (the mother) purifying are fulfilled, for a son or for a daughter, she shall bring a lamb of the first year for a burnt offering, and a young pigeon or a turtledove for a sin offering, unto the door of the tabernacle of the congregation unto the priest.
8 And if she be not able to bring a lamb, then she shall bring two turtledoves or two young pigeons, the one for the burnt offering and the other for a sin offering, and the priest shall make an atonement for her, and she shall be clean.'"
3 He is despised and rejected of men, a Man of sorrows, and acquainted with grief. And we hid as it were our faces from Him; He was despised, and we esteemed Him not. — his life was a series of sorrow, from the cradle to the cross; in his infancy his life was sought for by Herod, and he was obliged to be taken by his parents, and flee into Egypt; he ate his bread in sorrow, and with the sweat of his brow; he met with much sorrow from the hardness and unbelief of men's hearts, and from the contradiction of sinners against himself, and sometimes from the doubts of his own disciples; from the temptations of Satan, and was exceeding sorrowful in the garden, when his sweat was as it were great drops of blood; and when on the cross, under the hidings of his Father's face, under a sense of divine displeasure for the sins of his people, and enduring the pains and agonies of a shameful and an accursed death; he was made up of sorrows, and grief was familiar to him. Some render it, "broken with infirmity", or "grief."
4 Surely He hath borne our griefs and carried our sorrows; yet we did esteem Him stricken, smitten of God, and afflicted.
5 But He was wounded for our transgressions; He was bruised for our iniquities. The chastisement of our peace was upon Him, and with His stripes we are healed.
The night before, while He prayed, His blood fell to the ground. He knew He would be flogged nearly to the point of death before they pounded the metal spikes into His flesh. He knew the prophetic words of Isaiah spoken seven centuries earlier that He would be beaten so badly that He would be "disfigured beyond that of any man" and "beyond human likeness" (Isaiah 52:14).

Forerunner Commentary of the King James Version Isaiah 52:14:

Jesus had to die a death that was excruciatingly painful. Why? To depict the horrible pain that sin causes. It would not have served God's purpose if He had died a painless death. The picture would have been incomplete.

Any criminal of that time would have despaired to learn he was to be crucified. Crucifixion was not only an execution, but also a method of torture. The Romans usually gave the victim an excruciating scourging first. Jesus was no exception. Before He ever touched His cross, He was scourged, beaten, and insulted.

Over the years we have heard quite a bit about the Roman lictor (Roman officer), the soldier charged with dispensing this dreaded punishment. He used a whip, often with imbedded pieces of metal, bone, or other sharp objects. Romans did not limit their lictors to the Israelite practice of "forty stripes save one," nor to striking just the victim's back. He would let the whip strike and wrap around every inch of the person's body until he was within an inch of death.

The prophet Isaiah prophesies how Jesus appeared after the scourging: "Just as many were astonished at you, so His visage [appearance] was marred more than any man, and His form more than the sons of men" (Isaiah 52:14). He goes on to say that He was "wounded [pierced] for our transgressions, He was bruised [crushed] for our iniquities" (Isaiah 53:5).

Just as there were many who were appalled at him — his appearance was so disfigured beyond that of any human being and his form marred beyond human likeness — Isaiah 52:14.

Many people were shocked when they saw him. He was so scarred that he no longer looked like a person. His body was so twisted that he did not look like a human being anymore (Isaiah 52:14).

The Jews were prophesied they would mourn One whom they had rejected: "And they shall look to Me whom they have pierced; then they shall mourn for him, as one mourns for an only son" (Zechariah 12:10). But the Christians have nothing to mourn? Currently these endtime virgins are described as lukewarm and in need of nothing, but would they not mourn when they realise that they had been blind, wretched and naked, seeing finally that Christ had suffered far more through His torn flesh and shed blood than they had ever realised? No? Regardless, these are being described in Revelation 3:17. "As many as I love, I rebuke and chasten: or else I will spew thee out of My mouth (v16,19)."
6 All we like sheep have gone astray; we have turned every one to his own way; and the LORD hath laid on Him the iniquity of us all. — Genesis 22:8 Abraham said, "God will provide for himself the lamb for a burnt offering, my son." So they went both of them together. that is, God the Father was foreshadowing what was to come; he has laid on Christ, his own Son, the sins of all his elect; which are as it were collected together, and made one bundle and burden of, and therefore expressed in the singular number, "iniquity", and laid on Christ, and were bore by him, even all the sins of God's elect; a heavy burden this! which none but the mighty Son could bear; this was typified by laying of hands, and laying of sins upon the goat of sacrifice, and putting the iniquities of Men also upon the head of the azazel goat, and carried away.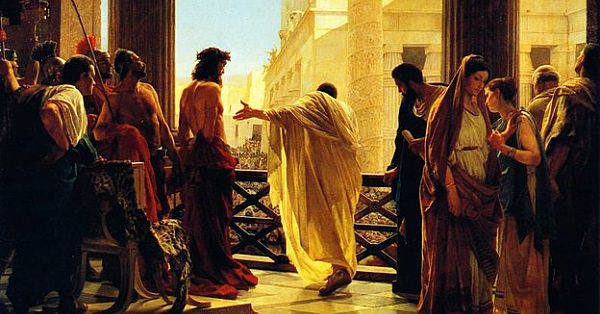 7 He was oppressed, and He was afflicted, yet He opened not his mouth; He is brought as a lamb to the slaughter; and as a sheep before her shearers is dumb, so He openeth not His mouth. — The natural reading of this verse indicates this is a human, not the state of Israel as Orthodox Jews alleged. Thus this is talking about Jesus, one who came to fulfill this Isaiah prophecy.
And when Herod saw Jesus he was exceedingly glad, for he had been desirous to see Him for a long time, because he had heard many things about Him, and he hoped to see some miracle done by Him. Then he questioned Him with many words, but He answered him nothing (Luke 23:8-9).
8 He was taken from prison and from judgment; and who shall declare His generation? For He was cut off out of the land of the living; for the transgression of My people was He stricken. — again, the natural reading of this verse indicates this is a separate being, a human, and "My people" and "He" could only be two separate entities.
9 And He made His grave with the wicked, and with the rich in His death, because He had done no violence, neither was any deceit in His mouth. — that Christ died with wicked men, besides two robbers, as if he himself had been one, a sinner, and was buried in the sepulchre of Joseph of Arimathaea, a rich man.
10 Yet it pleased the LORD to bruise Him; He hath put Him to grief. When thou shalt make His soul an offering for sin, He shall see His seed, He shall prolong His days, and the pleasure of the Lord shall prosper in His hand. — Another prophecy fulfilled: Speaking to the serpent, "And I will put enmity between thee (serpent) and the woman, and between thy seed and her Seed; It shall bruise thy head, and thou shalt bruise His heel" Genesis 3:15. Jesus was buffeted, scourged, and nailed to the cross; and was bruised and broken in spirit, when the sins of his people were laid on him. But why do it please the LORD?
11 He shall see of the travail of His soul, and shall be satisfied. By His knowledge shall My righteous Servant justify many, for He shall bear their iniquities. — My righteous Servant couldn't possibly be Israel, and Israel doesn't bear the world's iniquities, so this has to be a Man, the Son of Man, Jesus.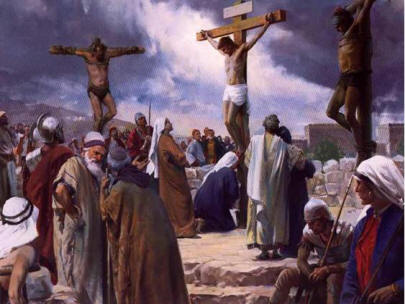 12 Therefore will I divide Him a portion with the great, and He shall divide the spoil with the strong, because He hath poured out His soul unto death. And He was numbered with the transgressors; and He bore the sin of many, and made intercession for the transgressors. — In Daniel 7:18 "But the saints of the Most High shall take the kingdom, and possess the kingdom for ever, yea, for ever and ever." He bore the sin of many; again, this description fit Jesus nicely fulfilling the Lamb of God that every Jewish family should be reminded at Passover. It would take an unsustainable effort to propose this is fulfilled by the state of Israel. Because He humbled himself, and became obedient unto death, even unto death, God hath also highly exalted Him, and given Him a name above every name, that at the name of Jesus every knee should bow, and every tongue confess that He is Lord, to the glory of God the Father.
And looking into the future, the blindness of the Jews will vanish. their eyes open. This is a prophecy for the Jews when Christ return: "And they shall look upon Me whom they have pierced, and they shall mourn for Him as one mourneth for his only son, and shall be in bitterness for Him as one who is in bitterness for his firstborn" Zechariah 12:10